Follow our latest updates, alerts and conversation via twitter or on Facebook at: @CEDRdigital. You may also explore some of our past activations via the hashtag #CEDRdigital
Status: Active – We are currently working on the Coronavirus pandemic and Wildfire Season.
Starting January 25th we activated in response to the Novel Corona Virus pandemic, to help fill information gaps that may exist for the public for native and non-native speakers of English. This information is shared on our Twitter and Facebook accounts. For tips, resources and ways to avoid getting infected visit our CORONAVIRUS page
Practice good hygiene. Washing your hands thoroughly, covering your mouth and nose when you cough or sneeze, and disinfecting surfaces often can help prevent the spread of COVID19
Prepare your family for the disruptions that come with pandemics by using the guide at Ready.gov
Talk to your employer and school administrators about what they are doing to prepare
Stay informed. The Centers for Disease Control and Prevention (CDC) World health organization and EU CDC, have information on prevention, risk assessment, and guidance for the public, medical professionals and travelers.
Know what's going on in your state. State health departments are publishing information on COVID-19, and many are sharing the status of potential cases. Its important to follow them as they will be the ones ultimately making the recommendations on school closures, etc.
Wildfire Season
CEDR Digital Corps is partnering with NAPSG Foundation and GIS Corps during the wildfire season to identify, map, and communicate wildfires across the US to help the public. Minutes matter in a wildfire and knowing what fires are in the vicinity can help the public take early action to stay safe.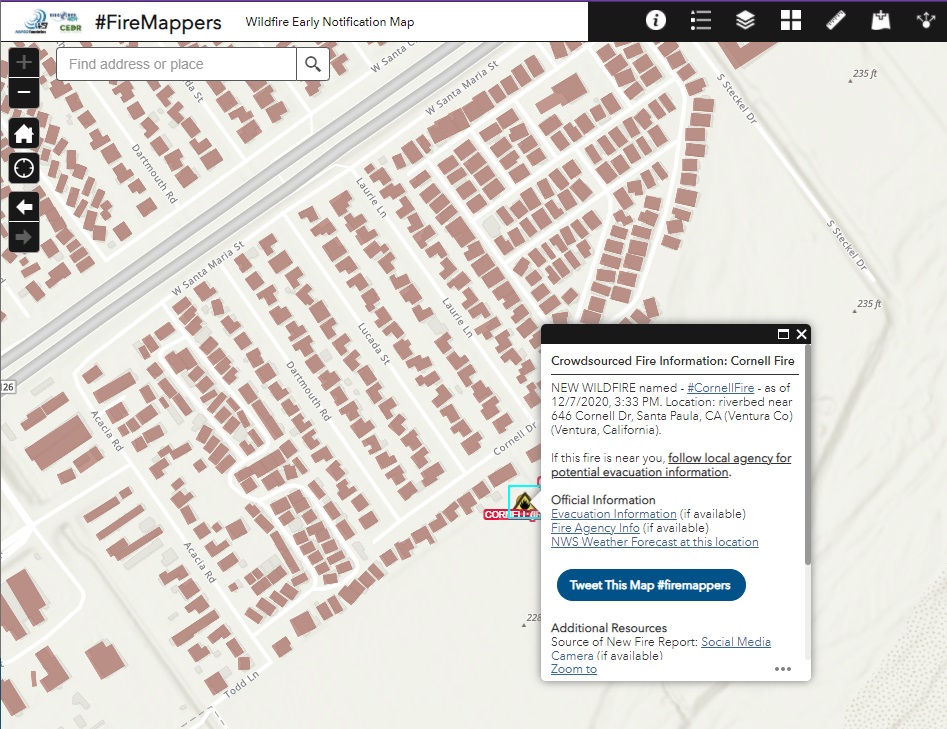 Follow Fire Mappers on social media with the #FireMappers hashtag or check out the crowdsourced map for a look at wildfires across the United States. As always, please follow instructions and updates from local authorities for fires in your area.
We have been creating visualizations of wildfire perimeters and terrain during the most aggressive phases of wildfires to help inform residents of the ongoing dangers. Below is an example of one of these visualizations.
Crowd Sourced Damage and Situational Awareness Map
On an ongoing basis we have partnered with GIS Corps and the NAPSG Foundation on a damage assessment and situational awareness tool which you can access to view via this hyperlink.