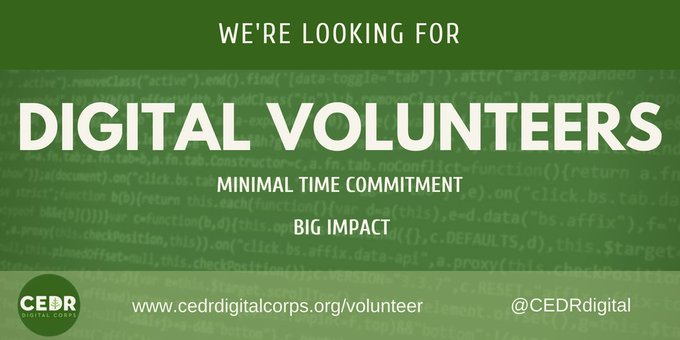 We're looking for a few good Helpers to join our amazing team of Digital volunteers! Are you interested in helping during a major disaster without any long term commitment and from the comfort of your home? A typical CEDR volunteer is someone exactly like you… concerned about what's happening during a disaster and willing to pitch in when you can, using your social media skills to help others. There is minimal time commitment to have a big impact and receive the greatest reward – the enormous gratitude of all those we've helped.
Still not sure how you can help? Visit us on twitter or check out our list of CEDR Teams below. You can create a lasting impact right from your living room couch.
Please read the Code of Conduct below, complete the volunteer form above, and WHITELIST volunteer AT cedrdigitalcorps DOT org in order to receive our emails.
CEDR Volunteer Code of Conduct
Volunteer Opportunities at CEDR
Communications
Graphic Design

Infographic Design

Internal Communications

Media Creators/Developers

Social Media Enthusiasts

Social Media Data Miners/Researchers

Web Design

Writing/Editing Web Content
Technology
Data Analysts/Managers

GIS Specialists/Analysts
HTML/CSS

Programmers

Business Analysts

Info/IT Security

Software Developers

UX/UI Designers

Website Management
Other Skills
Digital Creatives

Corporate Fundraising

Digital Mapping

Donor relations

Emergency Response

Finance

Ham Radio Operators

Grant Research / Writing

Marketing

Press Relations

Project Management
Teachers/Trainers
Researchers
Join our brigade of Digital Helpers by volunteering and training before disaster strikes so you can be available to help for a few hours during the next tornado, earthquake or wildfire.
Please email us at: contactcedrdc@gmail.com to subscribe to our volunteer alerts.
Thank you for visiting!