Nov 8th Recovery Status of Critical Lifelines
The CNM Islands of Saipan and Tinian
1. SAFETY & SECURITY:
Additional patrols are beginning to take place to enhance security. Residents are urged to follow basic precautions and not use generators indoors and keep them 20 ft from buildings. For additional safety tips please scroll to the end.
2. FOOD, WATER, SHELTERING:
Saipan Water Update:
The Commonwealth Utilities Corporation (CUC) has restored 53 of 142 water wells. The functioning water wells are now operating at full capacity.
Saipan Water Only Distribution:
Free Potable Drinking Water: Hrs: 6:30 am – Midnight – Limitations: three 5 gallon limit/family.
Free Non-potable Water: Hrs: 9:00 am – 4:00 pm – Limit: 100 gallons, except for Kloberville which is 50 gal.
Stations open today: Navy Hill, Kagman, Kannat Tabla, and Koblerville.
Saipan Shelter Update:
There are currently 842 individuals in 14 shelters across 2 CNMI islands. Four long-term congregate shelters being prepared to receive residents beginning today, with all displaced individuals expected to complete the transition by Nov 10th. As of 2:00 pm today, the following 3 shelters are the only ones open and accepting displaced residents:
– Tanapag Middle School
– Kagman Elementary School
– Saipan Southern High School
CNMI Tenting Program is a temporary housing solution for those eligible individuals whose home are damaged. For information on the Tenting Program, please call the following phone numbers below. Thirtyseven Family tents were installed today in Saipan and an additional 37 have been installed in Tinian. Tenting information/application telephone lines are:
Saipan – 323-0029
Tinian – 433-1803
Tinian Water Update:
All Water Wells are now operational at the source. The Army Corp of Engineers is continuing to assist the CUC with the water pipe breaks throughout the island.
Tinian Water filling Stations:
Maui Water Pump Station – Hours: 1:30pm – 5:30pm – 55 gal. max/family
Marpo Valley Water Station – Hours: 1:30 am – 5:00 pm – 55 gal. max/family
Kammer Beach – Hours: 10am – 5pm – 55 gal. max/family
Please boil or treat water from filling stations before using it for baby formula, cooking or drinking. See below for instructions.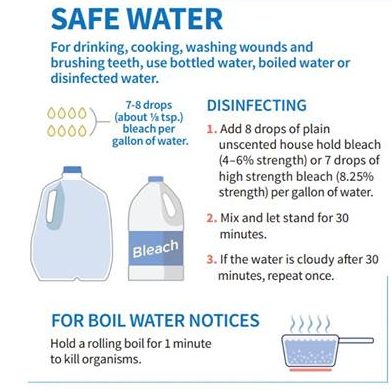 Tinian Food/Water Distribution locations and hours
Location: Tinian Gymnasium – Hours: 8:30am – 12noon
DPS vehicles will pick up residents at the following locations to transport them to the distribution site at 8:30am
The Distribution Transportation Shuttle has ended as more localized points of food distribution is now being arranged.
Please call 433-1803 for the location of the food/water distribution place nearest you.
3. HEALTH & MEDICAL
Saipan Hospital and Emergency Rooms are fully operational on generator power. The 97 bed expansion plan has been completed. A second medical clinic has opened in Dandan Village and is operational ahead of schedule. Health & Medical Task Force visiting two villages per day to handle medical needs; Team Rubicon (NGO) began staffing medical clinics in southern Saipan
– Dialysis Center is open and is maintaining normal operating hours (Mon–Sat 5:30 AM to 8:30 PM)
– The Chest Clinic is open for half-days indefinitely from 8AM to 12PM.
– The Community Guidance Center is offering crisis counseling services near CHCC.
Tinian Health Center sustained heavy damage. Emergency Room is staffed and fully operational on generator power.
4. ENERGY:
Saipan
Power has been restored to a few places as the infrastructure is repaired and brought back online. As of yesterday at 2pm, 913 poles were down and damaged and there are 510 damaged transformers. Of the nine feeders, Feeder #1, #4, and #7 are now partially online or have power. A total of 6 out of 9 power feeders are not able to be utilized and need to be replaced. A total of 56 generators installed.
Gasoline: 12 of 19 fuel pumping stations are now operational.
Tinian
Power Assessment: 754 down power poles and 9 damaged transformers. Additional crews and materials from Guam and Hawaii are expected soon. A total of 3 temporary generators have been installed.
Mobil Oil Tinian Fuel Service is the only gas station that is operational on the island- There will be a $20 limit/car and only cash will be accepted as payment. The Mayor and Tinian Council have negotiated a lower gas price for the month of November.
5. COMMUNICAITON:
CNMI: Most Banks and ATMs are functioning through generator power. Others will be reopening once repairs are made. Significant damage to cell towers throughout the islands is impacting wireless reception/communication. Telecommunications companies have begun working on restoring service.
Saipan: Currently cellular service is operating at 68% capacity, with is 41 of 60 cell towers.
Tinian: Current cell service operational capacity is at 60%. The Emergency 911 service is now fully operational and taking emergency calls.
6. TRANSPORTATION:
CNMI Airports and Sea Ports: All airports/sea ports in the Marianas are now operational but only during daylight hours. All airports are restricted to humanitarian relief efforts only. Saipan Airport's grid power is estimated to be fully restored by Nov 17th.
Saipan and Tinian Roads – are 80% cleared.
Tinian Fuel – Gasoline is available for sale at a reduced price between 9am and
Propane and Diesel are available at Wushin. Hours: 8am – 5pm (next to fish and wild life) They are only filling containers for household use, not cars, trucks or businesses.
Rota International Airport is open and fully functional.
7. STATE/LOCAL STATUS:
Debris pick up is being scheduled. Please separate your debris as indicated in the flyer below (click to expand) otherwise it will not be picked up. Please tell your neighbors. Thank you!
Guam is sending recovery assistance to CNMI in the form of technicians and National Guard Support. Support is also arriving in the form of electrical technicians from Hawaii and other states.
The Governor of Guam has been working with federal and military partners, as well as with local agencies to extend assistance to the Commonwealth of Northern Mariana Islands to assist with their recovery efforts following Super Typhoon Yutu's devastation. Approximately 140 Guam Guardsmen are expected to report on Monday and begin duty on Saipan as early as Tuesday or Wednesday of this week, for approximately 60 days.
The Army Guard's 1224th Engineer Support Company will also assist with recovery efforts to include support of U.S. Indo-Pacific Command and FEMA as the lead federal agency in support of debris clearing missions in CNMI.
Sources:
– CNMI Office of the Governor via Facebook @CNMIGov;
– Office of the Mayor of Tinian and Aguiguan via Facebook @tinianmayor96952
– CNMI EOC State Warning Pt via Facebook @cnmieocswp
– Congressman Gregorio Kilili Camacho Sablan via facebook @congressmansablan
– Federal Emergency Management Agency – FEMA.gov
– National Weather Service – weather.gov
================================================