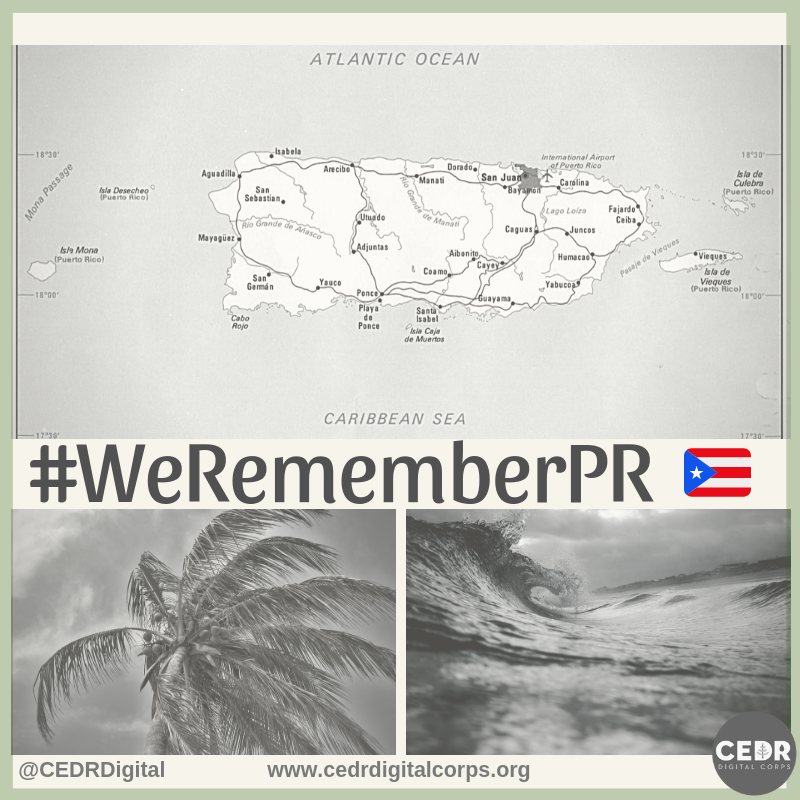 A year ago today, Hurricane Maria tore through the island of Puerto Rico leaving behind nothing but death and destruction. CEDR felt it was important to honor those who lost their lives and those who are still struggling to move forward, by reflecting their pain through numbers.
2975 – number of Americans who died after Hurricane Maria left a trail of destruction in Puerto Rico. Help honor them by looking up one name in this database, of those who died, and remembering their name for today. Share their story with another human being.
29% – percentage of increase in the suicide rate in the 3 months immediately after Hurricane Maria.
3,000+ – number of people who have attempted suicide since Hurricane Maria.
5,000+ – number of people who have thought of suicide since Hurricane Maria but reached out for help.
– a shoe memorial for those who died.
Hurricane Maria – Poem by Nancy Terrell
The winds started four hours ago
now clocking close to 100 mph –
sounds of a freight train
roaring across our yard.
The TV on for news
but even that disappeared
limbs along with numerous fronds
stricken from the Royal Palms
guarding the front of our home
The back yard appears as though
stuck in an automatic car wash –
Such fury rarely seen
even to those who have been
through so many hurricanes
Dave napping after two days of preperation
emptying the Lanai and my art studio
closing the huge glass doors.
Water up to the top of the pool
flooding as the "eye" moves closer
The most tragic news of all
happening four days ago in the BVI
when Irma hit there –
looking like a war zone with loss everywhere
houses out, trees down, no electricity, phones, water
Not a boat on the island left
mosquitoes are now everywhere.
flooding, mudslides, roofs and windows
crashing in the middle
of what used to be a road
Did god send this torment
or has man finally made himself the god
through weather engineering?